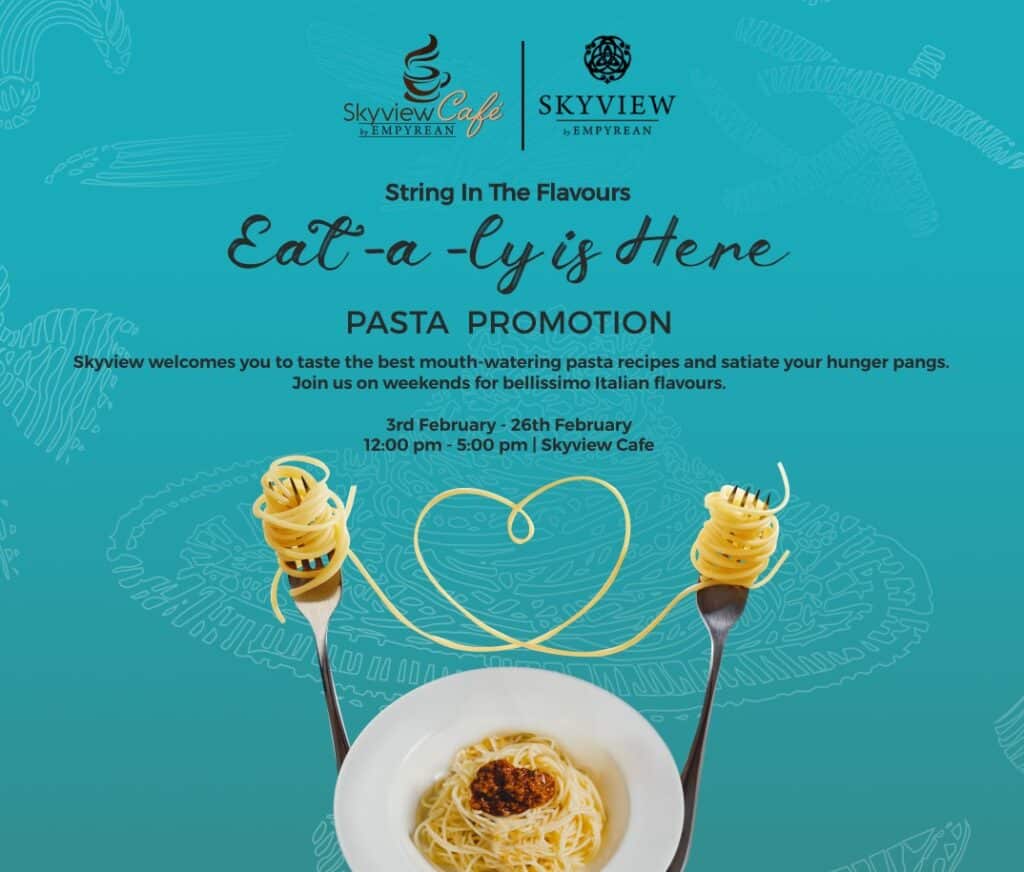 Weekend Pasta promotion at Skyview Café
Typically made from an unleavened  dough of  wheat flour, Pasta is an unparallel guilty pleasure. We at Skyview by Empyrean have organized a Pasta promotion across weekends during February to celebrate this comfort food in the veiled contours of Shivaliks.
The concept focuses on celebrating the diverse varieties of pasta from across the globe at Skyview Cafe.
An assortment of slow-cooked meat bolognese ragu, tomatoes & herbs stemming into Spaghetti Bolognese, traditional meatball recipe in tomatoes & porcini mushroom sauce come together to plate an irrestable fusilli and polpettine. Cheese Pasta in Creamy sauce topped with Crispy Twisted Chicken, Pasta tossed with Chicken tikka and garlicky alfredo Sauce, the Fusilli pomodoro assorted with tomato sauce & fresh basil, the blend of Penne aubergines, fresh basil & salted ricotta, Linguine, zucchini, cherry tomatoes, garlic & chilli, Tagliatelle wild mushrooms & Gorgonzola Sauce, Penne pasta tossed in our homemade arrabbiata sauce, tomato, red chilli & fresh herbs form an exemplary comfort match.
Pair your pasta with a smooth beverage and you have the makings of the perfect cozy meal!
With only 18% GST applicable on all the above-mentioned specialties, indulge in the sound absorbing ambience of the snow vertical with the synonym of comfort.