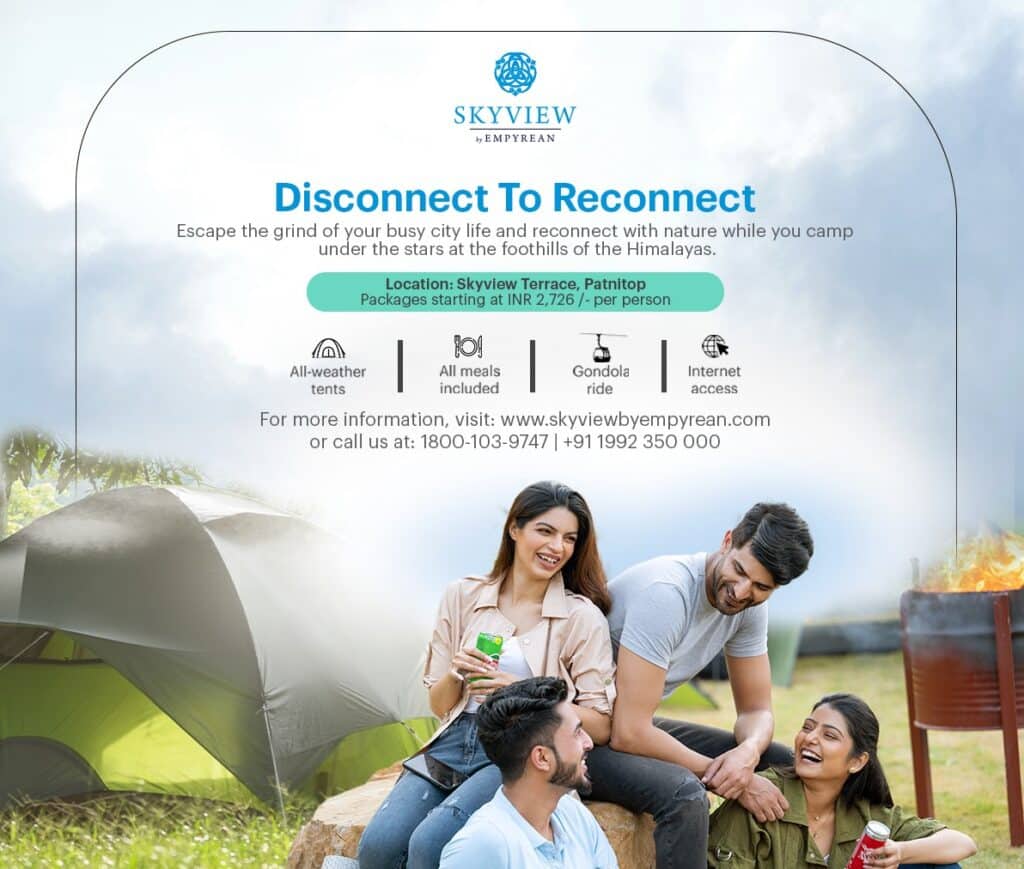 Tents at Patnitop
The feeling of camping amid the towering mountain peaks pronouncing the story of time, is grand. It leaves you breathless and humbled. Watching the sun slouch on the horizon, casting brilliance across the panorama, huddling inside the tent with the wind howling outside with a ferocious force too has a pleasure of its own.
While camping in the mountains one can collect an album of memories. Before you embark on your trip to the Shivalik's of Skyview by Empyrean, read on for what we have prepared for the adventure thrown at you.
Starting from 1st March to 31st July 2023 the inclusions of stationing the tents at the Skyview terrace include the complimentary welcome drink on arrival, packed meals in the tent as per resort timing, return gondola ticket, air mattress with bed sheet and camping pillows with pillow cover, sleeping bag with liner for -10*C, and camping Light-100 lumens. With a 25% discount on adventure activities, use of Internet access is also a plus.
The two sleep tents allow you to connect with nature alongside your partner or travel buddy. Make the vacation a group therapy amidst nature while you and your friends camp in our four sleeper tents. Do not understate the quote, the more, the merrier!! Camp your heart out with your friends and family in Skyview by Empyrean's six-sleeper tent facility.
The common washroom with premium toiletries will make your stay all the more comfortable.