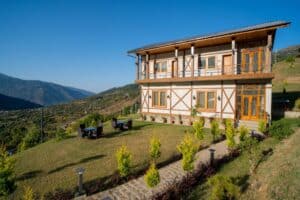 #SummerAtSkyview
Skyview by Empyrean, a frontrunner in rustic luxury, adventure tourism, and lifestyle activities, has its charm in every season. Whether you're looking for adventure, relaxation, or cultural immersion, a getaway to the hills is a primary part of the itinerary. #SummerAtSkyview in Patnitop is an opulent experience for those looking to escape the heat and soak in the natural beauty of the region.
This #SummerAtSkyview, we are offering Adventure and Stay Packages. For stay packages, choose from Gondola view or Mountain view rooms & suites and get a complimentary breakfast and dinner for two as well as a complimentary return gondola ride for two people adding to the overall value of the package. 
Adventure in the hills can be a thrilling experience, offering a chance to explore the natural beauty of the contours while engaging in a range of adrenaline gushing activities. The adventure package on the other hand, includes a 3 km ATV ride, archery, a magic carpet ride, and a choice between either a tubing sledge or a zigzag zipline. The package is priced at INR 1999 plus taxes and can be purchased either online or at the ticket counters.
The activities are facilitated with the safest and most technologically advanced systems, in addition to the trained professionals on-site. Therefore, the participants do not need to have any prior training or experience to indulge in the breath-taking adventure in the hills.
In addition to the packages offered at Skyview, guests can also explore the nearby attractions and points of interest, including Sanasar Lake, Naag Mandir Temple, Nathatop, Madhatop, Krimchi temples, and Sudhmahadev. The nearby attractions and points of interest offer additional opportunities for cultural experiences and sightseeing, making it a well-rounded destination.
Enjoy an exciting day out with friends and family in the foothills of the Himalayas. #SummerAtSkyview is all about relaxation and rejuvenation, along with adventure where guests can indulge in a range of adventure activities or simply unwind in this rustic lifestyle destination and absorb the panoramic views of the valley.