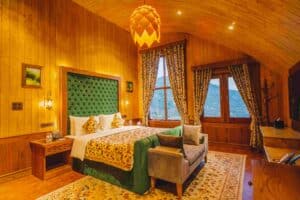 #SummerAtSkyview Room Packages 
Are you ready for an extraordinary summer getaway surrounded by breathtaking mountain vistas? Look no further than Skyview, where nature's beauty merges seamlessly with luxury and adventure. Our exclusive Skyview Summer Package offers you the perfect opportunity to indulge in a memorable 2-night, 3-day escape, filled with relaxation, exploration, and delightful experiences. Validity: 1st April'23 to 30th June'23.
Choose Your Ideal Room: Whether you prefer a Gondola View Deluxe Room, a Mountain View Premium Room, or a Gondola View Suite Room, we have the perfect accommodation option for you. Each room is thoughtfully designed to provide comfort, tranquillity, and panoramic views of the surrounding landscapes.
Round-the-Clock Access to Skyview Lounge: Enjoy unlimited services of tea, coffee, and indulge in friendly board games at our Skyview Lounge, available to you 24/7.
Delicious Breakfast & Dinner: Relish a fixed menu of delectable breakfast and dinner options at our onsite restaurant, offering a tantalizing culinary experience.
Complimentary Gondola Tickets: Discover the beauty of Skyview with complimentary return Gondola tickets for two guests during your stay. Take in the awe-inspiring views as you ascend to new heights.
Special Adventure Offer: Embark on thrilling adventures with our exclusive "Buy One Get One" offer on combined activities, including Tubing Sledge, Magic Carpet, Zig Zag Zipline, and your choice of Mountain Biking or Leisure Trails.
Refreshing Amenities: Enjoy the convenience of having 4 bottles of packaged water replenished daily in your room, as well as coffee machines with Italian capsules in Premium Rooms and Suite Rooms.
Unlimited Wi-Fi: Stay connected with complimentary unlimited Wi-Fi access in all our rooms, allowing you to share your memorable moments with loved ones.
L'Occitane Amenities: Experience luxury and pampering with premium L'Occitane amenities provided in all our rooms.
Child-Friendly: We welcome young adventurers! Children below 6 years of age can stay with us for free, creating cherished memories together.
18% GST: Please note that GST will be charged separately at a rate of 18%.
Take advantage of our special weekday and weekend rates, allowing you to plan your stay according to your preferred schedule. Weekdays, from Sunday to Thursday, offer a slightly lower rate compared to weekends, from Friday to Saturday.
Experience the epitome of a summer retreat at Skyview, where breathtaking nature, unmatched comfort, and unforgettable moments await. Treat yourself to a remarkable vacation filled with awe-inspiring scenery, delectable cuisine, and a wide range of activities for all ages.
Book your Skyview Summer Package now and embark on an extraordinary journey!
For reservations and further information, please reach out to our dedicated team. We have a limited availability, so secure your spot today and get ready to embrace the magic of summer at Skyview.