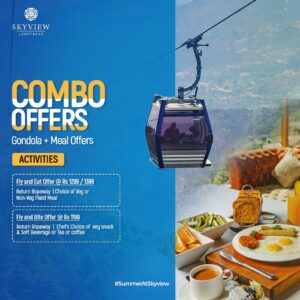 #SummerAtSkyview Gondola + Meal combo offers
Experience the breath-taking beauty of the pined contours of the Himalayas with Skyview Gondola and treat yourself to a delightful dining experience amidst the stunning vistas. We are excited to present our Fly & Eat and Fly & Bite combo offers, allowing you to enjoy a thrilling gondola ride along with a delectable meal or snack.
Take advantage of our Fly & Eat Offer, available at INR 1299 ++ for Veg Fixed Meal or INR 1399 ++ for Non-Veg Fixed Meal. This offer includes:
Return Ropeway: Soar high above the scenic landscape as you embark on a round trip in our Skyview Gondola. Marvel at the panoramic views and feel the exhilaration of being surrounded by nature's beauty.
Choice of Veg or Non-Veg Fixed Meal: Indulge in a sumptuous dining experience with a delectable, fixed meal. Whether you prefer vegetarian or non-vegetarian cuisine, our talented chefs have prepared a mouth-watering spread that will tantalize your taste buds and leave you satisfied.
If you're looking for a lighter option, our Fly & Bite Offer at INR 1199 ++ is perfect for you. This offer includes:
 Return Ropeway: Enjoy a scenic journey in our Skyview Gondola as you glide through the air, taking in the picturesque surroundings and immersing yourself in the beauty of the summer season.
Chef's Choice Veg Snack & Soft Beverage or Tea or Coffee: Delight in a delectable snack specially curated by our skilled chefs. Pair it with a refreshing soft beverage, or if you prefer, enjoy a soothing cup of tea or coffee to complement your snack.
At Skyview Gondola, we strive to provide you with an unforgettable experience that combines the thrill of a gondola ride with the pleasure of great food. Immerse yourself in the breath-taking views, indulge in a delectable meal or snack, and create lasting memories this summer.
Please note that the prices mentioned are exclusive of taxes and additional charges.