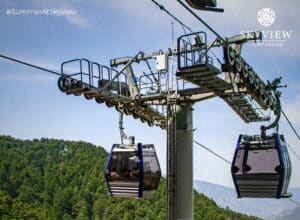 #SummerAtSkyview fly & Eat offer
If you're looking for a thrilling adventure that combines breathtaking views and mouthwatering food, then look no further than Skyview by Empyrean's Fly & Eat offer. This exclusive package provides an extraordinary experience where you can soar above the ground, enjoy a delicious meal, and create unforgettable memories, all at an unbeatable price. With prices starting at just INR 1299++ or INR 1399++, this offer is a steal and guarantees a day filled with excitement, delectable cuisine, and panoramic vistas.
The highlight of this package is the return ropeway ride, which allows you to effortlessly ascend and descend while taking in the stunning landscape. As you glide through the air, you'll be mesmerized by the awe-inspiring natural beauty unfolding beneath you. Whether you're a nature enthusiast or someone seeking a unique perspective, the ropeway ride promises to be an unforgettable experience that will leave you breathless.
Once you return from your exhilarating ride, it's time to treat your taste buds to a scrumptious chef's choice. Skyview by Empyrean offers you a choice between a vegetarian or non-vegetarian meal, ensuring that everyone's dietary preferences are catered to. Prepare to indulge in a symphony of flavours as skilled chefs craft dishes using the freshest ingredients. Whether you opt for the rich and savoury non-vegetarian selection or the vibrant and aromatic vegetarian spread, the culinary experience is guaranteed to delight your senses and leave you wanting more.
Whether you're planning a family outing, a romantic date, or an adventure-filled day with friends, this package is designed to exceed your expectations and create lifelong memories.
The Fly & Eat offer from Skyview by Empyrean is available till July 31st, 2023 only. Do not miss out on this opportunity to embark on an extraordinary adventure that combines stunning aerial views, a mouthwatering meal, and thrilling activities.
To take advantage of this exceptional offer, simply visit the Skyview by Empyrean website or purchase your tickets directly at the ticket counter. The package is priced at INR 1299/1399 plus taxes, providing incredible value for an experience that will leave you with lasting memories and a sense of exhilaration. Book your package now and get ready for an experience that will take your breath away.