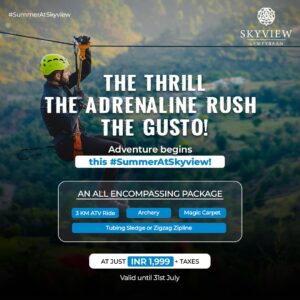 #SummerAtSkyview Adventure Package
Experience the ultimate summer adventure at Skyview Gondola with our thrilling Adventure Package! This package is designed to provide you with an adrenaline-fueled experience, combining multiple exciting activities into one comprehensive offering.
Adventure Package Highlights:
 3 km ATV Ride: Kickstart your adventure with a thrilling 3 km ATV ride, where you'll navigate through exciting terrain and feel the rush of adrenaline as you conquer the trails. Get ready for an off-road experience like no other!
 Archery: Test your precision and aim with our archery activity. Channel your inner archer as you aim for the bull's eye and compete with your friends or family in this fun and challenging sport.
Magic Carpet: Glide down the slopes with our Magic Carpet ride. Feel the wind in your hair as you slide effortlessly on this exhilarating carpet ride, enjoying the thrill of descending the slopes with ease.
 Tubing Sledge or Zigzag Zipline: Choose between the Tubing Sledge or Zigzag Zipline for your next adventure. Slide down the slopes on our Tubing Sledge, feeling the excitement as you twist and turn. Alternatively, take to the skies on our Zigzag Zipline, soaring through the air and experiencing an adrenaline rush like no other.
The Adventure Package at Skyview Gondola offers a perfect combination of heart-pumping activities and breathtaking natural surroundings. Challenge yourself, create unforgettable memories, and immerse yourself in the thrill of summer adventure.
Please note that the Adventure Package includes all four activities mentioned above. Prices and additional details can be obtained from our booking office or website.
Book us and get ready for the ultimate summer!