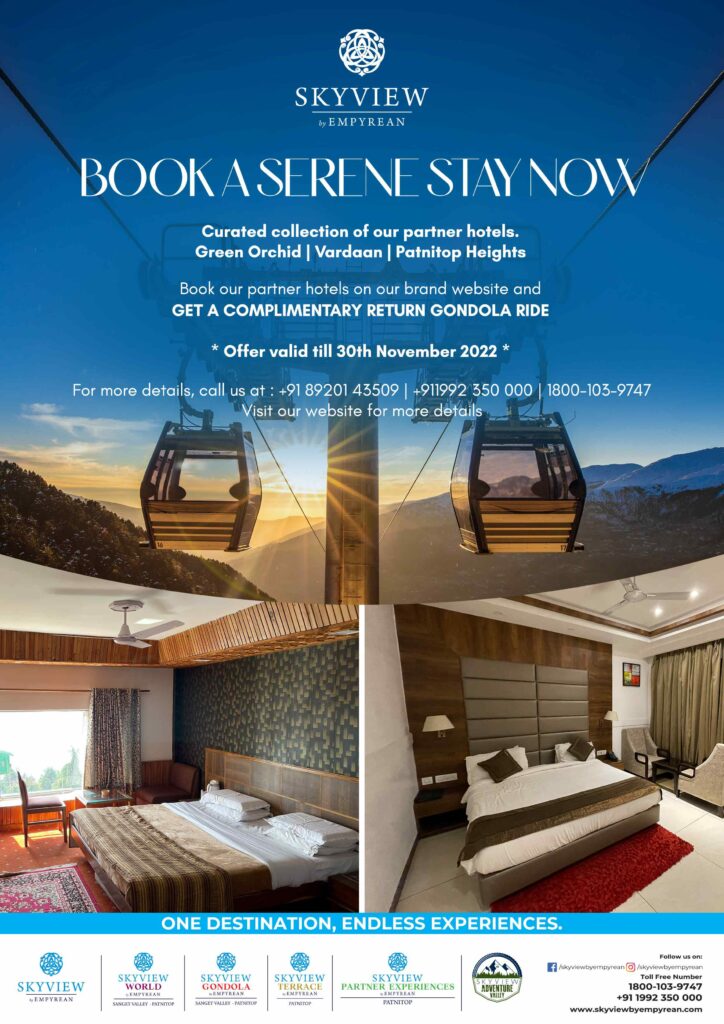 Skyview Partner Experience Special Offer
By booking our partner hotels on our brand website, you can grab the Skyview by Empyrean's Partner Experience offer and get a complimentary return gondola ride at Skyview by Empyrean until November 30th, 2022. This is an initiative to facilitate our patrons, improve their experience, and primarily boost tourism in Katra and Patnitop.
At Skyview by Empyrean, we seek to make all your vacations magical. The spacious avant-garde Skyview gondolas are custom crafted for an all-year-round experience. With India's highest Gondola (in terms of ground clearance), experience soaring treetops, and a captivating bird's-eye view of this scenic destination. The gondola ride will leave you in awe of the enthralling landscape.
Located near Skyview Terrace, which is the upper terminal of Skyview by Empyrean, the welcome at Hotel Vardan pinnacles the overall experience of the vacationer. On the other hand, the hotel Green Orchid furnishes guests with the experience of a water park amid the Himalayan mountains. In addition to the facility for relaxing massage at Patnitop Heights, a part of the area of cultural importance still exists.
Marked by mesmerising picnic spots, peaceful walks in the woods, and breath-taking views of the Chenab basin, Patnitop is a must-visit destination once in a lifetime.