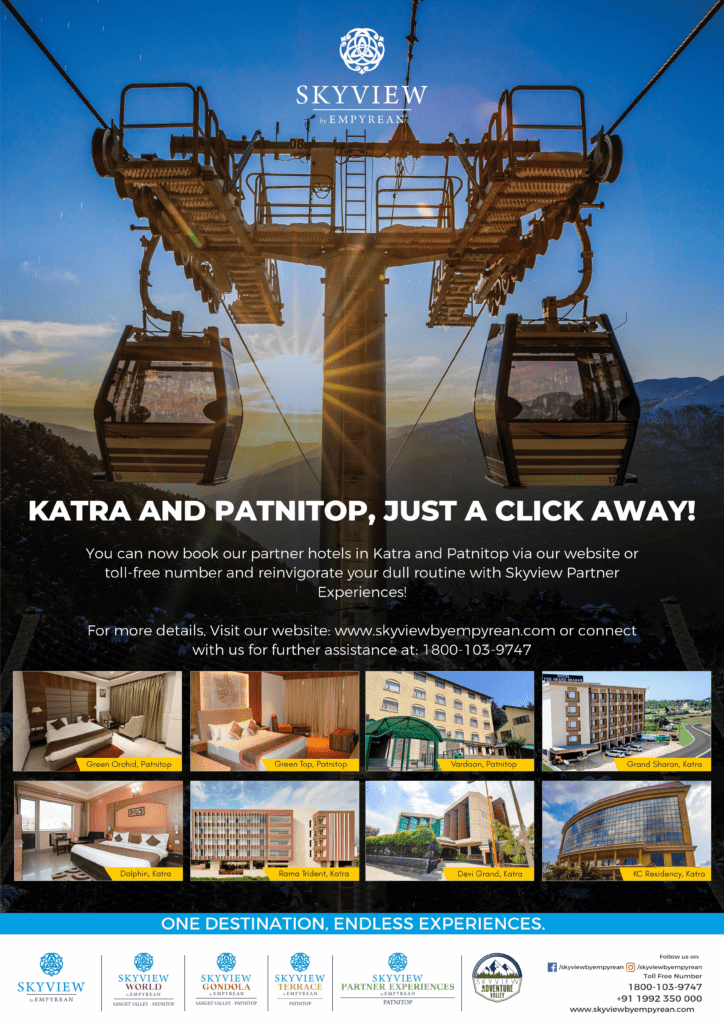 Skyview Partner Experiences
Contemplating high quality and efficient delivery to the vacationers in the area, we have initiated a strategic partnership with properties at Katra and Patnitop. You can now book our Skyview partner hotels in Katra and Patnitop on the Skyview by Empyrean website at www.skyviewbyempyrean.com or toll-free number and experience encapsulating rustic luxury, adventure tourism, and lifestyle activities like never before.
The mission is to promote sustainable tourism through green urban mobility by creating and developing infrastructure for a new and undiscovered destination called Sanget Valley and promoting the exquisite, uncrowded attractions nearby whilst continuing to promote and empower the forgotten hill-station, Patnitop.
At Skyview by Empyrean, we seek to make all your vacations magical, be it with us or with our partner hotels! This specially curated list of our partner hotels across Katra and Patnitop is sure to help you not only plan your future vacations but make the most of them by placing your bookings through us. Check them out below!
Vardaan, Patnitop
Green top, Patnitop
Green Orchid, Patnitop
Rama Trident, Katra
Dolphin, Katra
KC Residency, Katra
Grand Sharan, Katra
Devi Grand, Katra
Some are spread over acres surrounded by dense conifers on all sides, some at a minute's walk from the Nag Mandir, some next to the 'Skyview Ropeway' upper terminal, some vouched for their romantic moods and proximity to the newlyweds, and some well-appointed at peaceful locations. These properties are a mundane escape and give you the zest of the highest of pinnacles.