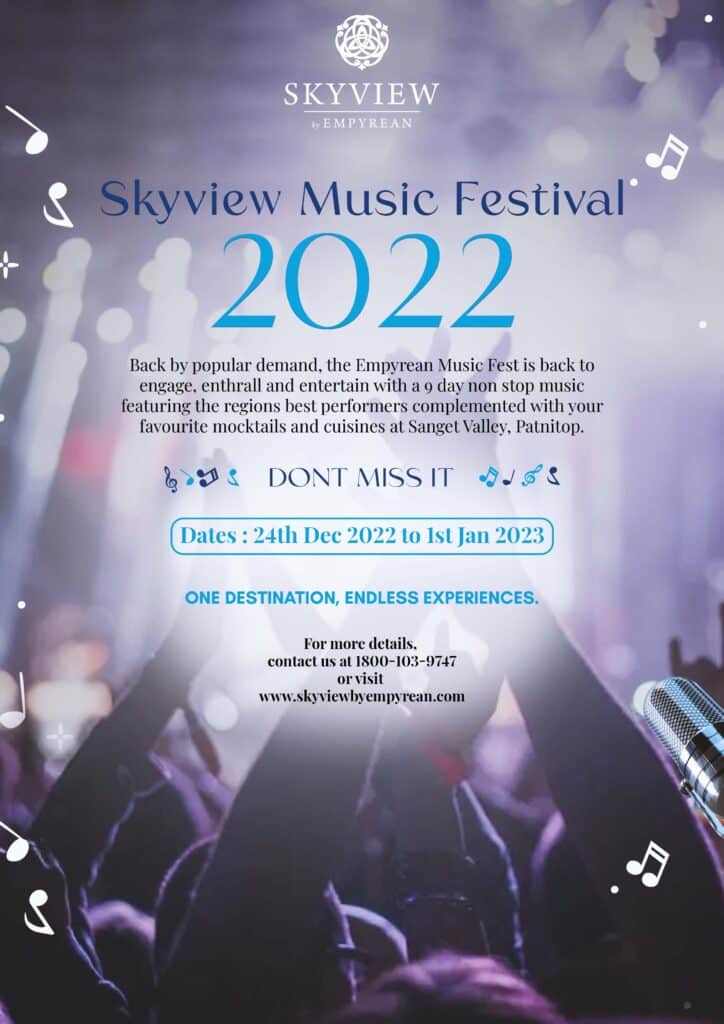 Skyview music festival 2022
This December, Skyview by Empyrean has the floor set to get you grooving to the tunes of the state's celebrated singers. This annual music festival is being held from December 24th, 2022, to January 1st, 2023. This year's theme is a musical fusion of artists across musical niches, whose talented notes will reverberate in Sanget Valley and the captivating hills of Patnitop. The event will be sponsored by JK Tourism, Toyota, Vardaan Hotels, State Times, and Big 92.7 FM.
This 9-day music festival will be marked by star performers like the Duggar siblings Roohi- Juhi along with legendary father Ustad Suraj Singh in the musical evening, Sonali Dogra, Shubam Shiva, Saptak Band, Kabul Bukhari, Waqar Khan, and more. India's highest DJ party will also be a part of this 9-day music festival for 3 days:  29th, 30th and 31st. Saptak Band will set the tone for a grand welcome to the first day of the new year on January 1, 2023.
Music has the power to heal the soul and pull distant hearts together. However, only a real music fan would understand the bliss of listening to music at a live concert. For travellers and music lovers, this is a golden opportunity, as they get to explore new places while also enjoying the diverse mix of music.