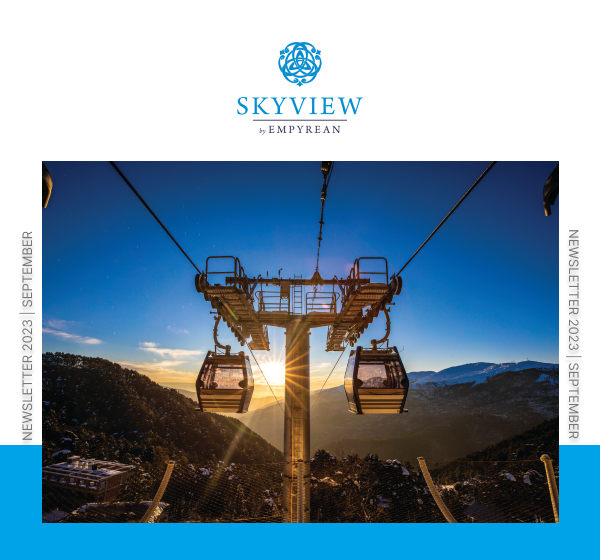 MESSAGE FROM THE MANAGING DIRECTOR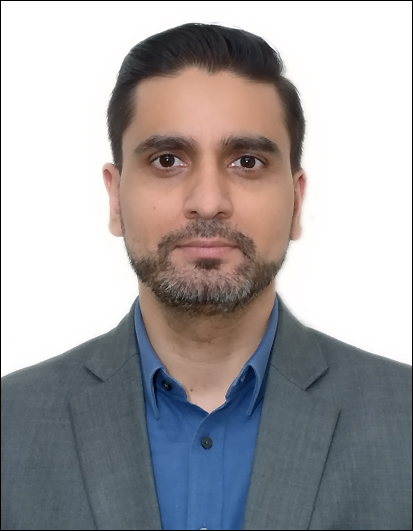 - SYED JUNAID ALTAF
As September dawns, ushering in a season of transformation and renewal, we extend a cordial invitation to you to partake in an exceptional journey that encapsulates the essence of this enchanting month.
The Skyview Monsoon Package unveils irresistible stay packages and combo offers on captivating adventures and meals, creating a tapestry of exhilarating experiences within the embrace of nature.
It gives me immense pleasure to proudly present "SAMA-VAYA," an Art Retreat Organised by art consultant and curator Anupa Mehta held from September 5th to the 10th as a debut event at Skyview's Pine View Banquet. With decades of experience in the Indian art world, Ms. Mehta is known for providing strategic insights and curatorial support to various art projects. The Sama-Vaya art retreat brought together award-winning artisans and craftsmen, Mohan Kumar Verma, Ramesh Hengadi, and Sanjay Chitara, along with contemporary artists Sarika Mehta, Bhairavi Modi, and Kanchan Chander, to participate in a restorative and collaborative art retreat at the majestic Skyview by Empyrean. The space transcends conventional event venues; it is a stage where your aspirations and celebrations are seamlessly woven into the fabric of the awe-inspiring backdrop of Shivaliks.
I am also pleased to notify you all that we recently participated in the Travel & Tourism Fair Ahmedabad 2023, where Skyview took the centre stage. The event highlighted the transformative potential of technology in shaping the future of travel. We engaged with industry stakeholders, recognizing the importance of collaboration and innovation. Our virtual preview of destinations, accommodations, and activities received accolades from major Tour Operators and Hotel chains.
As we embark on this chapter of luxury, adventure, and artistic indulgence, I invite you to become an integral part of our September narrative at #MonsoonatSkyview.
Skyview's accommodations transcend traditional lodging, serving as conduits through which the mesmerizing mountain range and the graceful movements of the Skyview Gondola become integral components of your stay. Reserve your moments now to immerse yourself in luxury, and adventure. Allow the mountains and the allure of September to craft memories that will endure the test of time.
Best regards,
Syed Junaid Altaf
Show More
SAMA-VAYA Art Retreat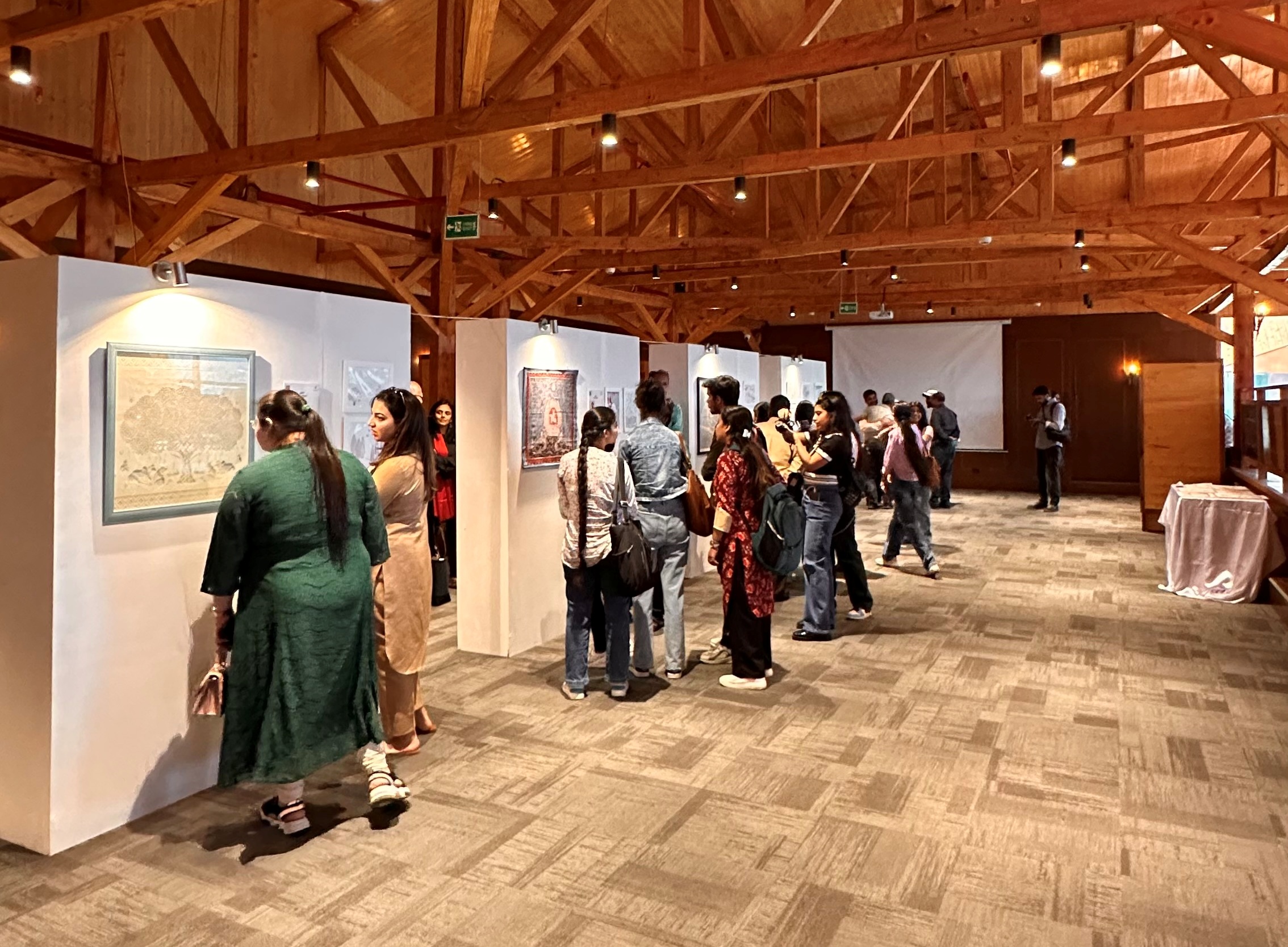 "Sama-Vaya, a Sanskrit term meaning 'union,' served as the guiding principle for Skyview by Empyrean. Drawing inspiration from this concept, our aim was to bring together acclaimed artists and craftsmen from across India, fostering collaboration, idea exchange, and the creation of inspiring masterpieces.
The Sama-Vaya Restorative Art Retreat, spanning five days from September 5th to 10th, was organized by the esteemed art consultant and curator, Ms. Anupa Mehta. Six practitioners, comprising three contemporary artists and three master craftsmen, worked both individually and in pairs to capture their impressions of Jammu and the essence of Skyview by Empyrean. Their artworks were showcased at an exhibition on September 9th at Skyview by Empyrean's Pineview Banquet.
The event featured a diverse lineup of talents. Bhairavi Modi, known for her ethereal brushstrokes, contributed her unique touch to our artistic mosaic. Mohan Kumar Verma's evocative strokes added new dimensions to the experience. Sarika Mehta's creations offered a portal to an intricate universe of emotions. Kanchan Chander's masterpieces breathed life into each moment. Sanjay Manubhai Chitara, an innovative maestro, pushed the boundaries of art. Ramesh Hengadi's creations resonated with the very heartbeat of nature. United by their passion for creation, these artists' works intertwined, sparking fresh perspectives and igniting the flames of artistic endeavours.
Art has always served as a bridge between souls, a realm where collaboration blossoms like wildflowers, and where the very air is infused with a creative aura. 'SAMA-VAYA' wasn't just an event; it was an opportunity to immerse oneself in a world where inspiration knows no bounds, artistic camaraderie thrives, and the beauty of Skyview's backdrop enhances every stroke.
Our mission was to nurture cultural growth through shared experiences and curate an environment for artistic indulgence to flourish. This exhibition was not exclusive to a select few; it opened its doors to everyone on September 9th who wished to witness the beauty of creativity intertwined with culture. People from all walks of life came to visit us and let the artistry, stories, and connections that crossed boundaries enthrall their senses.
We celebrate the union of art and nature, where your creative journey finds its place among the stars, forming a constellation of inspiration and expression. We eagerly anticipate your future visits."
Show More
#MonsoonAtSkyview
Embark on an extraordinary journey into mountain luxury with the alluring Skyview Monsoon Package. This tantalizing 02-night, 03-day odyssey, available until September 30th, 2023, promises a symphony of exclusivity and exhilaration.
Among the opulent choices, the Gondola View Deluxe Room invites you to marvel at majestic Gondola spectacles. For those yearning for lavish spaces, the Mountain View or Gondola View Premium Room extends an embrace of elegance. At the pinnacle of indulgence, the Mountain View or Gondola View Suite Room awaits. Here, sprawling windows and balconies frame the captivating Shivalik mountain range and the gentle dance of the Skyview Gondola through fragrant pine havens. Suite guests are also bestowed with a personal Butler, a devoted orchestrator of indulgence.
The Skyview Monsoon Package goes beyond mere lodging; it's an artistic narrative. The Skyview Lounge offers a sanctuary of ceaseless tea, coffee, and playful board games, where relaxation and amusement reach their zenith. The palate, too, is a canvas for indulgence, with complimentary TDH Breakfast and TDH Dinner at the resort's culinary haven served in harmonious rhythm.
Nature's tableau unfolds with complimentary return Gondola Tickets, gifts of exploration for two souls. Embrace adventure's call with a magnetic Buy One Get One offer on escapades like Tubing Sledge, Magic Carpet, and Zig Zag Zipline—an orchestra of thrill amidst mountain embraces. Stay connected with complimentary, boundless Wi-Fi, weaving your experiences into real-time tales shared with cherished hearts. Amidst this canvas, L'Occitane products grace each room, epitomizing luxury's caress. Families, take heed! Children under 6 are granted the gift of participation, seamlessly woven into the tapestry. A reminder, 18% GST shall stand as a footnote.
Step into this chapter of luxury and adventure with the Skyview Monsoon Package. Reserve now and inscribe your story with moments, vistas, and mountain splendour—an exclusive tale, fleeting and precious. The mountains' enchantment awaits—A bewitching voyage like no other.
Show More
Travel Trade Fair Ahmedabad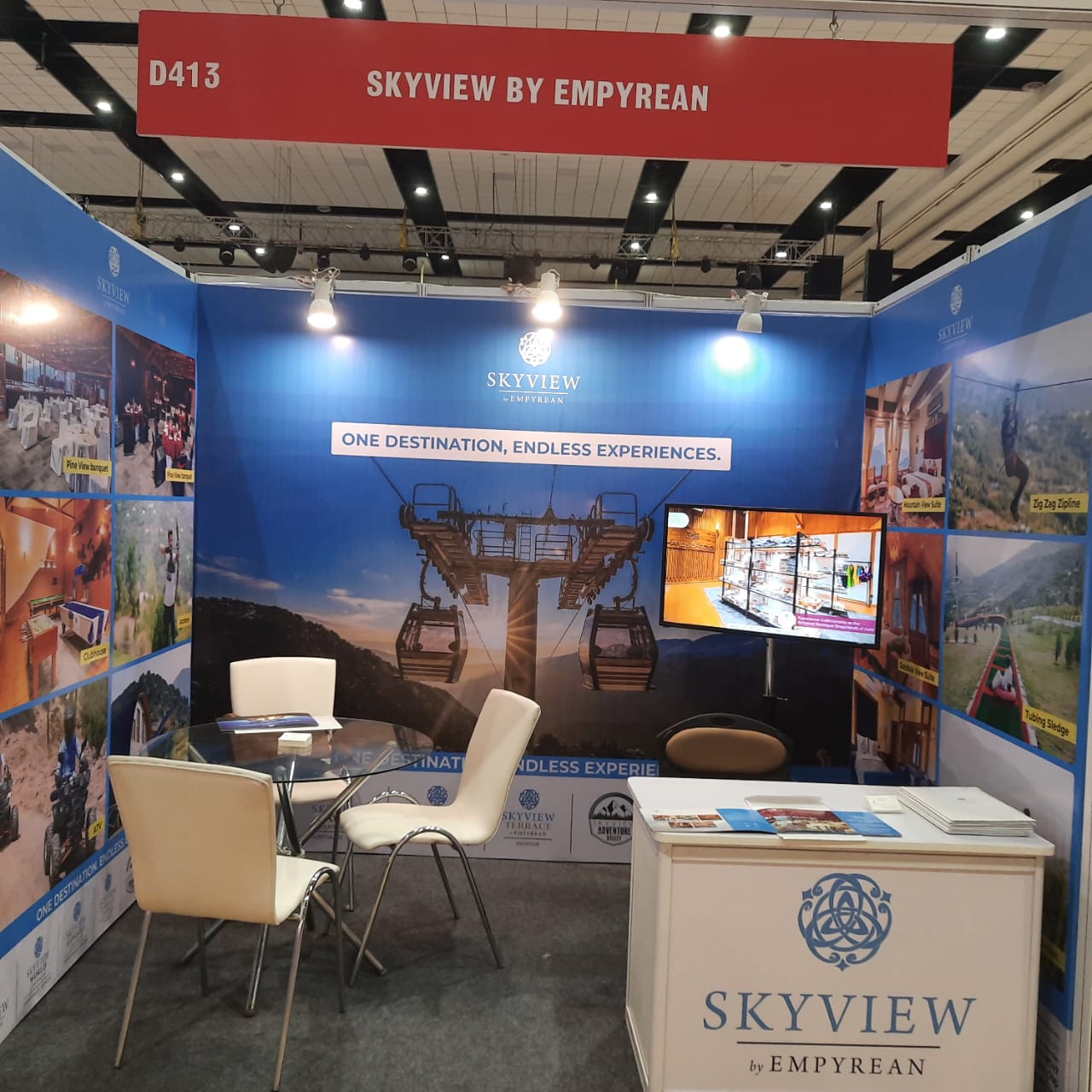 The travel and tourism industry is on the cusp of transformation, especially in a dynamic market like India. With the Indian travel sector experiencing exponential growth, the Travel & Tourism Fair Ahmedabad 2023 (TTF) served as a pivotal platform for industry stakeholders to converge and explore innovative solutions. Amid this bustling event, Empyrean's groundbreaking product, Skyview, took centre stage, leaving an indelible mark on attendees and stakeholders alike.
Empyrean's participation in TTF Ahmedabad was not just limited to showcasing Skyview. The company engaged extensively with various stakeholders, including Tour Operators, Travel Agents, and Hotel representatives, to understand their needs and aspirations. Empyrean recognized the importance of collaboration and used the event as a platform to foster relationships, exchange insights, and contribute to the growth of the industry. Several key stakeholders, including major Tour Operators and Hotel chains, expressed their enthusiasm for Skyview's potential to reshape travel experiences. They recognized the unique value proposition that Skyview brought to the table – the ability to offer travellers a virtual preview of their destinations, accommodations, and activities.
The event served as a reminder that as the industry continues to evolve, innovative solutions like Skyview are vital in meeting the changing expectations of travellers. The event's success demonstrated that when technology and stakeholders collaborate, the possibilities are endless. With this resounding success, the travel industry stands poised to embrace a future where virtual reality seamlessly intertwines with real-world adventures, opening doors to limitless exploration and unforgettable memories.
Show More
Pine View Banquet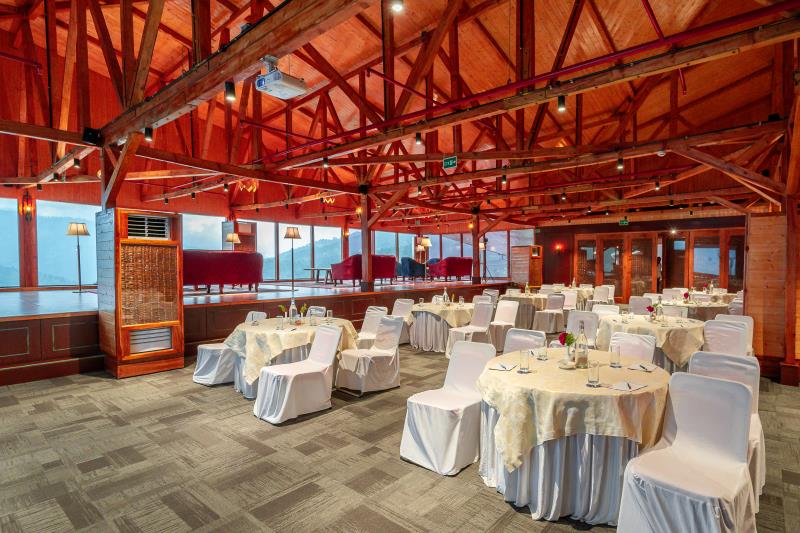 Indulge in the experience that marries elegance with the unparalleled beauty of Patnitop's landscapes. Pineview Banquet opened its doors to high-profile conferences that foster connections and to enchanting weddings that paint love stories against nature's grand canvas.
Notably, with SAMA -VAYA, the art retreat, Pineview Banquet marks its debut event from September 5th to September 10th, 2023.
As the sunlight caresses the pine-draped mountains, Pineview Banquet's large windows become frames for Patnitop's beauty, capturing its essence in every glance. This connection isn't just about hosting events; it's about showcasing the magnificence of this place we hold dear. It is thoughtfully appointed with elegant furnishings, harmonizing seamlessly with the sprawling lawns and setting an exquisite stage for any memorable affair.
SAMA-VAYA, the inaugural event at Pineview Banquet, is a testament to our commitment of making each event a chapter in the story of Patnitop—be it a conference that fosters connections, a wedding that celebrates love, or an artistic retreat that merges creativity with nature's charm.
An orchestration of remarkable experiences Pine View Banquet is a realm where the latest in audio-visual wizardry, an atmosphere sculpted to your desires, and the artistry of temperature blend seamlessly, transforming mere gatherings into unforgettable stories. Nestled within its embrace are dedicated banquet kitchen realms, an anticipatory pre-function area, and spatial arrangements as versatile as the tapestry of your imagination. Pineview Banquet is your blank canvas, ready to be adorned with the colours of your unique event. It is here that your vision materializes in various seating symphonies—imagine a theatre setting that captivates, a classroom arrangement that nurtures learning, or the grandeur of a banquet fit for your dreams. Pineview Banquet Hall defies limitations; it accommodates intimate corporate conclaves of ten as readily as it plays host to grand galas with up to 200 guests. The fluidity of its design extends to U-shaped formations that embrace dialogue, hollow block seating that fosters interaction, and lounge pockets that beckon leisure. This is versatility that dances to your rhythm.
With the debut, Skyview by Empyrean reasserts its place among India's most coveted event venues. Each element—the incredible offerings, the awe-inspiring surroundings, and an unyielding dedication to excellence—is carefully orchestrated to craft an experience that lingers long after the last note.
Show More