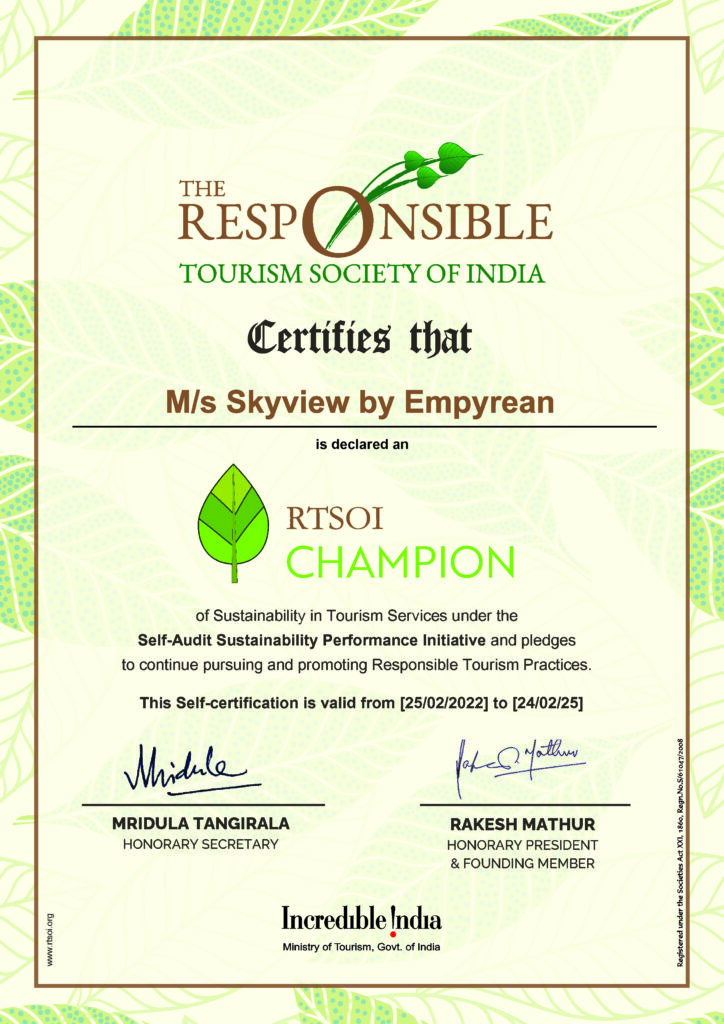 Skyview By Empyrean, Patnitop, is certified as India's first Sustainable Tourism Destination and a "Champion ", accorded with a score of 90 plus for complying with sustainable, and eco-friendly tourism practices. This implies that Skyview by Empyrean is set as per the standard laid by the Ministry of Tourism, Government of India (GoI). These standards include Sustainability Management, socioeconomic, Cultural, and Environmental sustainability.
The reiteration of Sustainable Tourism makes every traveller a stakeholder of this Planet. It also maximizes social and economic benefits to local communities in addition to benefiting the cultural heritage, thereby, reducing the negative impacts on the environment.
Commenting on the certification, Syed Junaid Altaf, the Managing Director, Empyrean Skyview Projects Private Limited said, promoting sustainable development and tourism is the right way forward.  Over the next three years, we are looking at close to 700,000 passengers adopting gondola which will help in reducing carbon footprint since more people are expected to use this as a mode of transportation instead of driving up by the road.
Community development is an integral part of our plans. We are also working on building a sustainable and holistic hospitality brand with differentiated offerings, global partnerships, and a unique experience for every guest.
Speaking on awarding the RTSOI certification to Skyview by Empyrean, Rakesh Mathur, Founding Member & Hon. President, RTSOI, said, "It is a matter of great pride that Skyview by Empyrean has emerged as the ''Champion'' practitioner in the first-ever Ecotourism destination India certification by RTSOI.
He also congratulated the Skyview Team and Syed Junaid Altaf for his vision and dedication towards Responsible & Sustainable Tourism Practices.