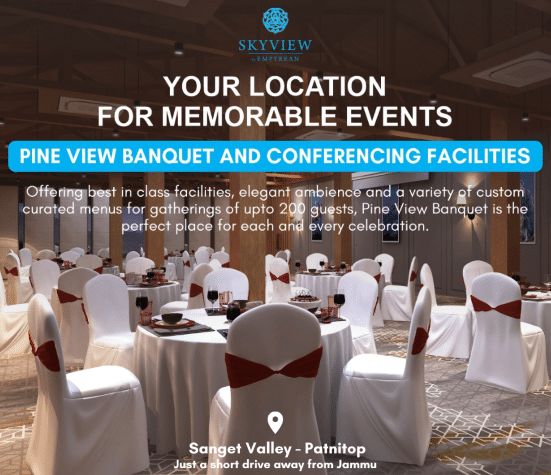 Opening Soon: Pine View Banquet and Conferencing facilities
Skyview by Empyrean, noted for its sweeping pined views of the Shivalik's, offerings of well-appointed rooms, a multi-cuisine restaurant and upscale amenities, is now gearing up to make your social or corporate gatherings unforgettable with their upcoming Pine view banquet and conferencing facilities.
People and organizations will be able to book it to hold parties, banquets, wedding receptions, or other social events. Businesses will be able to book it to hold sales meetings, training and awards events, corporate celebrations, conferences, and get-togethers. With nominally spaciously put furniture, an additional expanse of lush lawns and pine contoured mountains, the Pineview Banquet is a perfect backdrop for special occasions.
With audio-visual services on demand, ambience, temperature control, dedicated banquet kitchen facilities, a separate pre-function area, and flexible spatial utilization options make this destination with endless experiences a perfect pick for destination weddings.
Available in theatre and classroom styles, Skyview by Empyrean's regal Pine view Banquet Hall would be able to cater to the corporate meetings of just 10, or banquets & events of up to 200. It is also ready to use with its U-shaped, hollow block, and lounge area.
This will certainly reiterate our vouch for this destination of endless experiences as one of India's most preferred & flexible venues.