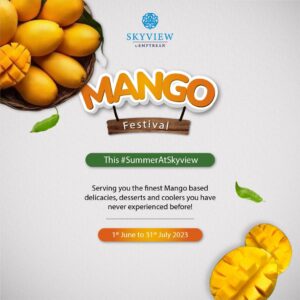 Mango Promotion at Banana Leaf Restaurant
As the summer sun shines brightly, Banana Leaf is excited to bring you a delightful culinary experience centred around the king of summer fruits, the mango! From June 1st to July 31st, immerse yourself in the sweet and luscious flavors of Mango with its Promotion, where we have carefully crafted a menu featuring a variety of mango-based dishes, desserts, and refreshing beverages.
Our savoury offerings, such as the Grilled Chicken Skewer, Grilled Cottage Cheese & Mango Skewer, will tease your taste buds with their unique taste. Each dish combines the smoky outline of the grill with the succulent sweetness of mango, creating a harmonious blend of complementing flavors.
For those seeking a taste of tradition, we proudly introduce the Mango Ambal, a specialty from the Dogri region made with raw mangoes, spices, and jaggery. The vibrant flavors of this dish capture the essence of the regional cuisine and showcase the versatility of mango in creating unique culinary experiences.
Satisfy your sweet tooth with our exquisite Mango Cheesecake, a refreshing dessert that combines the creamy texture of cheesecake with the tropical goodness of mango. The Mango Pastry and Assorted Mango Platter are also must-tries.
Quench your thirst and beat the summer heat with our range of mango-infused beverages. Experience the refreshing tang of Aam Ras, a popular dessert from the western Indian state of Gujarat or indulge in the tropical goodness of a Mango Margarita or Mango Basil Colada. For a creamy and revitalizing treat, our Mango Lassi and Aam Panna are perfect choices to create delightful summer coolers.
Mango Promotion is a testament to our commitment to culinary excellence. Join us as we celebrate the flavors of summer and explore the versatility of the magnificent mango.
We can't wait to welcome you to Banana Leaf and share the joy of the king of summer fruits!