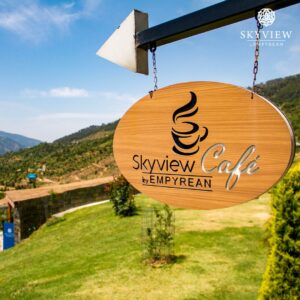 Introducing the All-New Skyview Café Menu
We are thrilled to present our revamped menu at Skyview Café, offering you an enhanced dining experience during your visit. Our culinary team has been hard at work, curating a range of delectable options to satisfy your taste buds. Here's a glimpse of what's new:
Beverages: Quench your thirst with our refreshing beverage selection. We are excited to announce the addition of non-alcoholic beer to our lineup. Whether you prefer a classic soda, a fruity mocktail, or now, a refreshing non-alcoholic beer, we have the perfect beverage to complement your meal.
On the Go: For those who prefer quick bites while exploring the surroundings, we have introduced a new section called "On the Go." This section offers convenient options that you can grab and enjoy on your adventures. From wholesome energy-packed snacks to delectable treats, we have curated a selection of delectable treats to keep you fuelled throughout the day.
We believe in continually enhancing our offerings to cater to your preferences and provide an exceptional dining experience. Our team has carefully crafted each dish and beverage to ensure a perfect blend of flavors, quality ingredients, and culinary innovation.
Embark on a culinary journey at Skyview Café and indulge in our all-new menu!