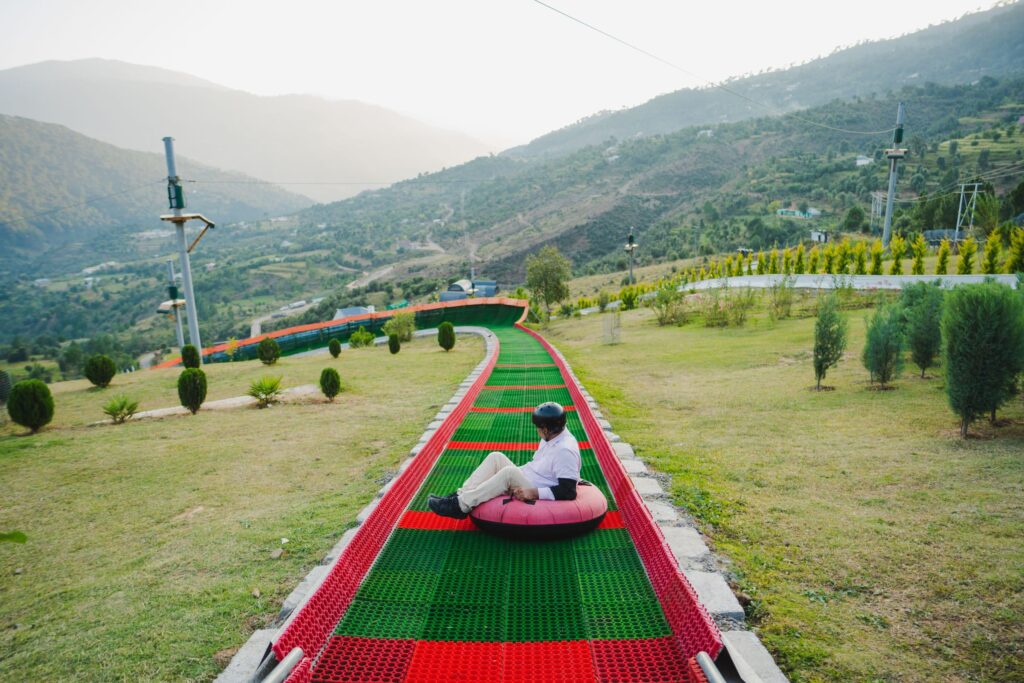 Get to Know: The Tubing Sledge
Skyview by Empyrean offers India's first dry tubing sledge with a total track length of 238 meters. The tracks are carefully designed by professionals with the highest standards of safety and customer satisfaction. The track passes through the two major and minor curves with an accompaniment of the pined contours of the Shivaliks. Visitors are seated in a round-shaped tube that slides down on the track, administering thrills and an adrenaline rush to the participants.
We lay a high degree of importance to operational, technical, and environmental safety. A series of opening checks along with the alignment of the track mats are inspected twice a day. The visitors are equipped with high-quality equipment such as tubes, mats, elbow & knee pads, and helmets manufactured by the Italian manufacturer of equipment for mountaineering and sport climbing. All the equipment used at Skyview is UIAA-certified.
The qualified instructors provide all the safety instructions at the launch pad and perform the demo by sledging on the track before the visitors set in for the thrill.
This activity supports personality development by partnering an individual in overcoming fears and building an acute sense of confidence in him.
We have witnessed individuals at Skyview by Empyrean encouraging others to achieve; it induces a positive self-image, and thus the guests continue to show interest in activities beyond the immediate learning environment. We also encourage our visitors to independently participate in follow-up courses where these are available.