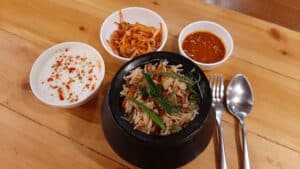 Eid celebrations at Skyview
Muslims across the world celebrate EID on the appearance of the crescent moon in a particular month.
Food is a major part of any fiesta. To make EID food exclusive, chefs at Skyview by Empyrean stuck to the traditional recipes and spices, this paved the way for them to achieve authentic flavours in EID lunches and dinners at the property. A contemporary spin was given to these dishes by using colourful ingredients, garnishes, and plating techniques that were aesthetically pleasing and appetising to the eye. All this was done while keeping the flavours true to their quintessence.
To accommodate various tastes and preferences, chefs at Skyview by Empyrean curated a variety of dishes to make sure that there is something for everyone; this included vegetarian, meat-based, diet meals, and desserts. Skyview by Empyrean's celebrated F&B team served a healthy version of biryani this Eid. The healthy twist to this included brown rice to make the fibre and nutrient content of the delicacy high, vegetables to add more flavour, lean meat with plenty of protein, and healthy fats like olive oil or coconut oil to prepare the exotic food in.
The Eid menu primarily consisted of the Chicken Seekh Kebab made from minced chicken and spices formed onto skewers and grilled over charcoal, a whole leg of lamb marinated in spices and cooked in a clay oven, a vegetarian version of Kebab made with minced vegetables and spices, multiple rice dishes made with fragrant basmati rice, and spices, with the vegetarian and non-vegetarian options typically served with a yoghurt-based sauce, and a dessert called sheer korma made with vermicelli noodles and nuts as major.
The festive occasion of Eid is all about coming together with loved ones, sharing delicious food, and creating wonderful memories. We hope that we were able to add joy to your celebration. Let's cherish the memories and look forward to the next time we can come together and celebrate.