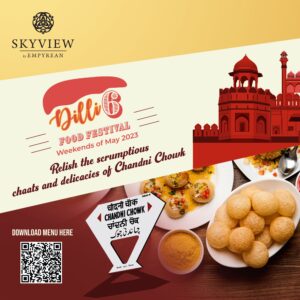 Dilli-6 Food Promotion 
The Dilli-6 Food Promotion at Skyview by Empyrean is a celebration of the vibrant food culture of Old Delhi. It is a tribute to the rich culinary heritage of the city and will offer visitors the opportunity to taste some of the most iconic dishes of the heritage city.
The promotion is being held on the weekends in May 2023. The a la carte menu will allow visitors to choose from a variety of traditional dishes and street foods from Chandni Chowk. Each item on the menu will be priced separately, giving our guests the flexibility to order as much or as little as they want.
The chaats and desserts will give guests a chance to taste the different flavours and textures of a variety of traditional dishes. Skyview by Empyrean will offer a comfortable and relaxed atmosphere for guests to indulge in this tantalizing food from the streets of Delhi 6.
The delicacies on the menu, which include Chole Bhature, Papdi Chaat, Pani Puri, Lassi, Kulfi, Rabri Faluda, and much more, are designed to reflect the rich culinary legacy of Chandni Chowk street food.