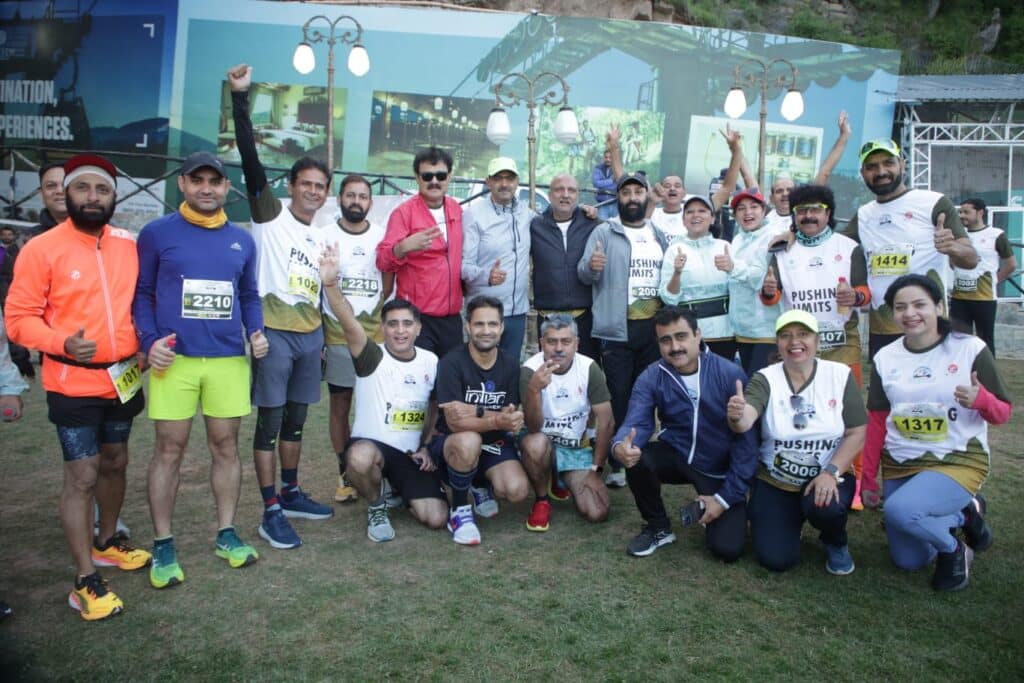 Collaborations: Patnitop Marathon, Rally of Valley & International Yoga Day
The collaborations of Skyview by Empyrean reflect the vision and values of the frontrunner in rustic luxury, adventure tourism, and lifestyle activities. By associating with events like the Patnitop Marathon, Rally of Valley, and International Yoga Day, we aim to create holistic experiences that resonate with our guests. We believe in fostering the sense of community, adventure, and wellness, and these collaborations allow us to showcase our dedication to these principles.
In June, Patnitop witnessed an exhilarating display of athleticism and camaraderie as the Patnitop Marathon unfolded. Empyrean was honoured to be the title sponsor of this prestigious event flagged off from its upper terminal, Skyview Terrace. The marathon attracted participants from near and far, including seasoned runners, amateurs, and fitness enthusiasts of all ages. The picturesque landscapes of Patnitop served as the perfect backdrop for this remarkable race.
From the 14th to the 18th of June, the Rally of Valley took place, captivating the hearts of adventure enthusiasts. Skyview by Empyrean proudly served as the official hospitality partner for this thrilling event. The Rally of Valley showcased the prowess of drivers and how they maneuvered their machines through challenging terrains, conquering every obstacle that came their way.
The serenity of the meadows in Patnitop became the perfect setting for the celebration of International Yoga Day. Participants gathered to embrace the tranquillity and rejuvenating power of yoga. Under the guidance of expert instructors, attendees immersed themselves in various yoga asanas and breathing exercises, harmonizing their mind, body, and soul. The lush green surroundings and pristine air of Patnitop created an idyllic ambiance that enhanced the experience of this ancient practice. Organized by Jammu Tourism and the Patnitop Development Authority (PDA), this event aimed to promote the practice of yoga and its benefits. Skyview by Empyrean was proud to be one of the sponsors for this event, highlighting our commitment to wellness and holistic living.
We extend our heartfelt gratitude to the organizers, participants, and sponsors who made these events possible. Skyview by Empyrean will continue to seek meaningful collaborations and partnerships to enhance the overall experience of our guests, ensuring that every visit to Patnitop is a memorable one.