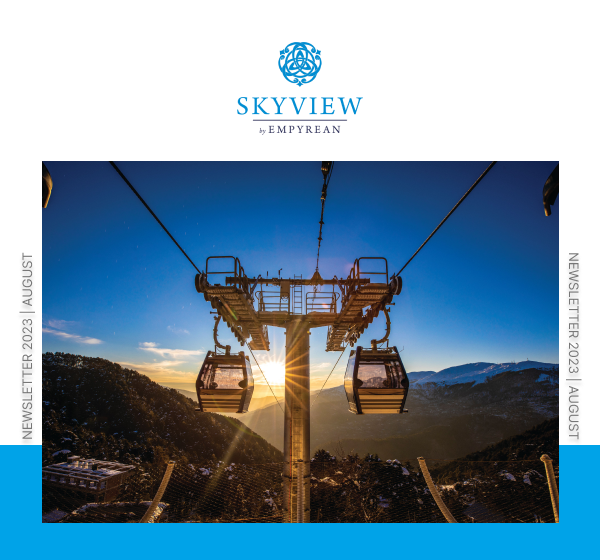 MESSAGE FROM THE MANAGING DIRECTOR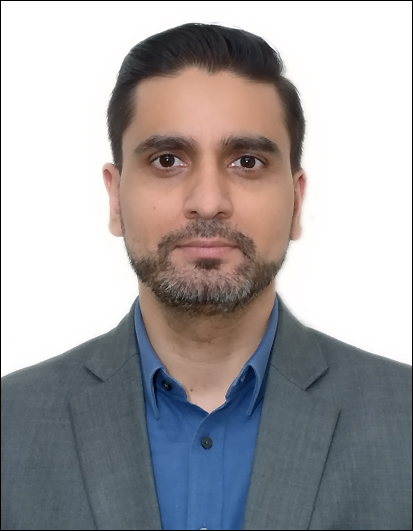 - SYED JUNAID ALTAF
As we find ourselves immersed in nature's monsoon orchestration, I am pleased to welcome you to Skyview by Empyrean, a sanctuary of untamed beauty and endless experiences.
In the realm of Patnitop, we reveal a unique equilibrium between mild monsoons and an awe-inspiring panorama—an ideal retreat for the discerning traveller who seeks repose amidst nature's opulence.
For those seeking a rendezvous with adventure, our monsoon package unfolds a compelling narrative, beckoning you to embrace thrill and luxury in harmonious synchrony. At Skyview by Empyrean, nestled in the foothills of the Himalayas, partake in exhilarating pursuits, and savour the vast expanse of the landscape with a round-trip gondola ticket, which gifts you the privilege of witnessing nature's grandeur from the vantage point of our idyllic abode.
In this oasis of respite, I extend my profound gratitude to you all for entrusting Skyview by Empyrean with your cherished vacations and celebrations. Our dedicated team, immersed in the pursuit of crafting unforgettable experiences, is poised to guide you through a realm where luxury and adventure meet at this destination of endless experiences.
Allow yourself the pleasure of embarking on this transformative sojourn from August 1, 2023, through September 30, 2023. Immerse yourself in the magic of the monsoon, creating cherished memories that will forever grace the chronicles of your travels.
With eager anticipation, I await your esteemed presence at Skyview by Empyrean, where the monsoon's allure unfolds in mesmerising grandeur.
Yours in exploration,
Syed Junaid Altaf
Show More
#MonsoonAtSkyview Stay Packages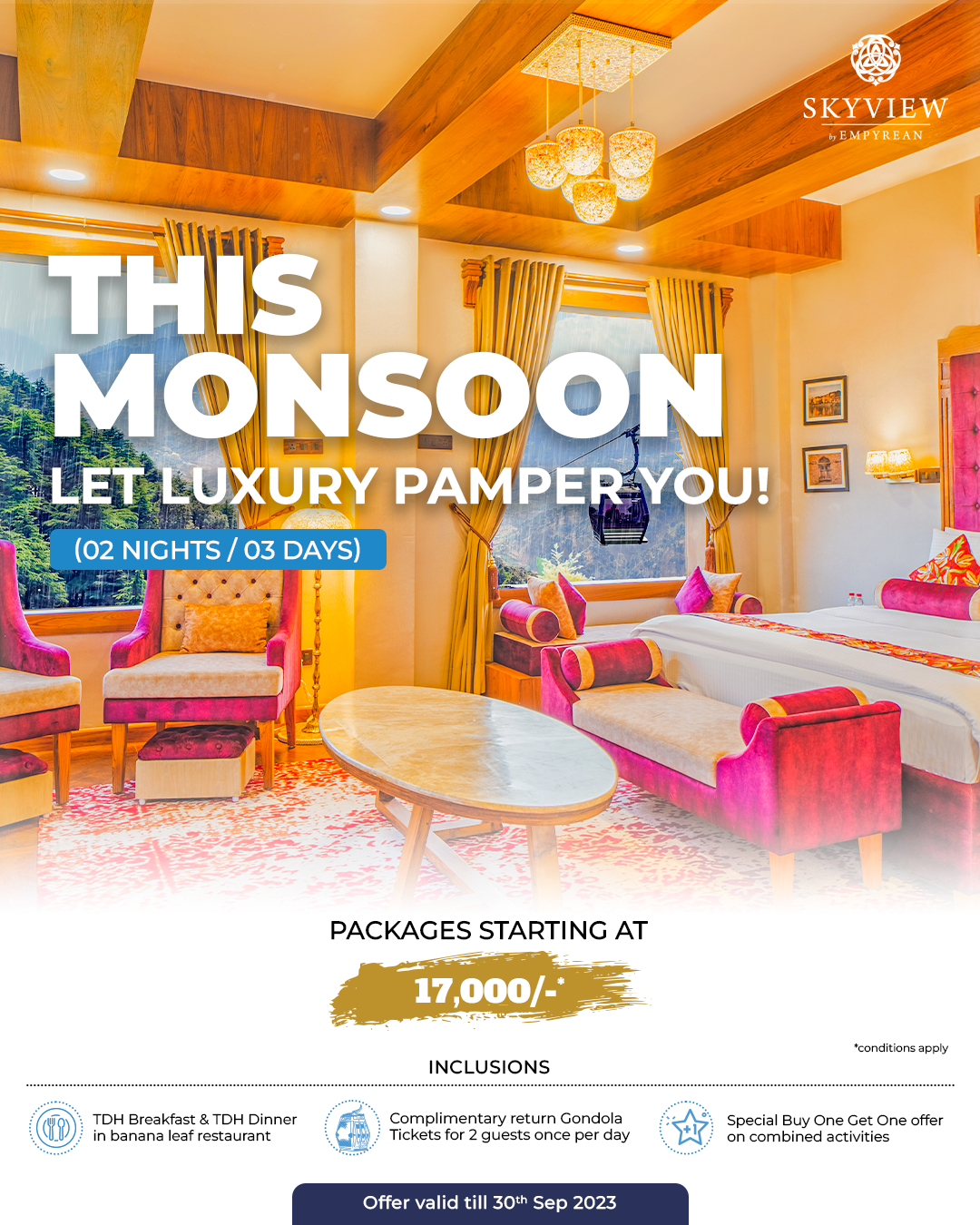 Are you craving an exhilarating escape into the lap of luxury surrounded by breathtaking mountain views? Look no further than the Skyview Monsoon Package, a thrilling 02 Nights / 03 Days adventure that will leave you with memories to cherish. Valid until 30th Sept' 2023, this package is packed with excitement and exclusivity.
The Skyview Monsoon Package offers a variety of luxurious accommodations to suit every yearning. You get to Choose the Gondola View Deluxe Room and get mesmerized by the majestic Gondola. If you wish to seek more space and lavishness, the Mountain View or Gondola View Premium Room is the perfect choice for you. An extra adult with an extra bed can also be arranged. For the ultimate indulgence, opt for the Mountain View or Gondola View Suite Room. Its large picture windows and balconies provide uninterrupted views of the breathtaking Shivalik mountain range and the Skyview Gondola gently gliding over the pine forests. For Suite Room guests, a Dedicated Butler is at the service, providing personalized attention throughout the stay.
The monsoon and caffeinated beverages are a pair made in heaven. The Premium and Suite Rooms come equipped with Coffee Machines featuring Italian capsules, bringing you the aroma and taste of fine coffee while absorbing the glamorous view of the contours. These are replenished twice daily, so you can enjoy your favourite hot beverage whenever you desire.
The Skyview Monsoon Package doesn't stop at luxury accommodations; it offers a plethora of inclusions to elevate your experience. With this package, you get round-the-clock access to the Skyview Lounge, where unlimited tea, coffee, and board games await you, ensuring endless hours of relaxation and entertainment.
Treat your taste buds to a delightful culinary experience with TDH Breakfast & TDH Dinner at the resort's restaurant, served as per resort timings.
Immerse yourself in adventure with complimentary return Gondola Tickets for two guests daily. Extra adults and children also receive return Gondola Tickets once during their stay, providing ample opportunities to explore the surrounding beauty.
The package also includes an exciting Buy One Get One offer on combined activities such as Tubing Sledge, Magic Carpet, Zig Zag Zipline, and a choice of Mountain Biking or Leisure Trails. Indulge in the heart-pounding excitement amidst the mountains at an unbeatable price.
Stay connected with complimentary unlimited Wi-Fi facilities in all rooms, ensuring you can share your incredible experiences with loved ones in real-time. Luxuriate in the finest amenities with L'Occitane products available in all rooms, adding an extra touch of indulgence.
If you are travelling with children? Worry not, as children below 6 years of age are complimentary, allowing your little ones to join the adventure free of charge.
Embrace the spirit of adventure and luxury with the Skyview Monsoon Package. Book now and embark on a journey filled with unforgettable moments, stunning vistas, and a touch of opulence in the mountains. This exclusive package is available for a limited time, so don't miss the opportunity to create cherished memories. Get ready to be captivated by the magic of the mountains and experience a vacation like no other!
Show More
Monsoon Magic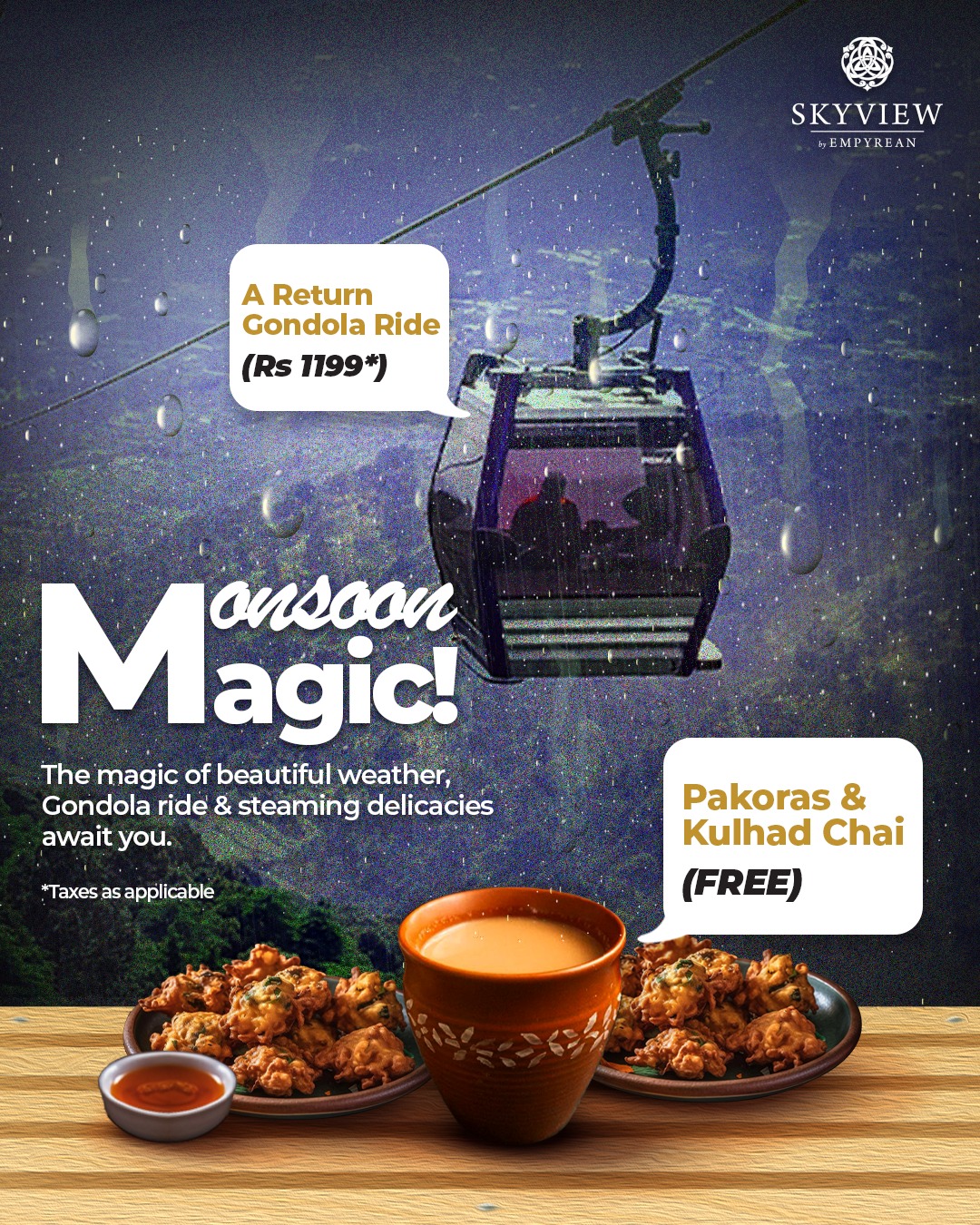 Every petrichor enjoys the joyous atmosphere of the monsoon season. At Skyview by Empyrean, the magic of this enchanting season comes alive, with the sound of thunder and rain exuding from misty clouds that hover over the beautifully decorated meadows. The lashing rain revitalizes the lush greens, and the drops on the windowpanes create a mesmerizing dance as they flow into the cracks. The earth's pleasant aroma grounds one in the present while also lifting the spirit to an ever-gratifying composure. Amidst this natural symphony, there lies a monsoon destination like no other: Patnitop, where the monsoons are mild and the curved hills adorn themselves in all-encompassing green splendour, welcoming visitors to indulge in the tranquil beauty of the season.
Nestled amidst the captivating allure of Patnitop, the Skyview by Empyrean beckons monsoon enthusiasts with its exclusive monsoon package. Whether you seek a peaceful respite from the chaos of city life or crave a thrilling escapade, this destination has it all. The monsoon package offers not only luxurious accommodations but also a chance to embrace adventure while basking in the awe-inspiring beauty of the season.
An opportunity to witness the magic of the monsoons awaits with the monsoon package offered by Skyview by Empyrean. Enjoy opulent accommodations and partake in thrilling adventures amidst the serene beauty of Patnitop. Immerse yourself in the best of the season, taking in the expansive perspective of the curved hills while savoring the view alongside a round-trip gondola ticket. Complete the experience with a taste of the popular Indian monsoon snack of fritters and tea, served in charming dry clay cups. Don't miss this chance to embrace nature's rejuvenating touch during the monsoon season. The package is valid from August 1, 2023, through September 30th, 2023. Book now and embark on a journey of luxury and tranquilly in the lap of nature!
Show More
Adventurer's Log of Skyview by Empyrean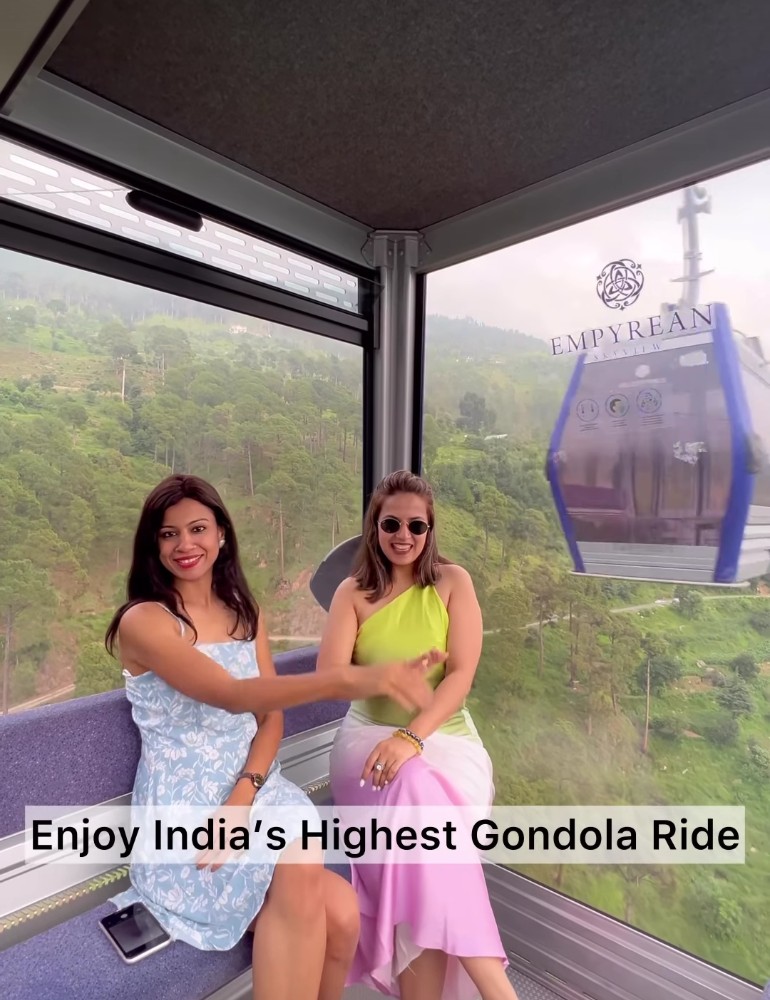 Skyview by Empyrean recently played host to renowned influencers Kinjal & Sushil, Nishta Gandhi, and Surbhi Chanana. As the sun-kissed mountains embraced their arrival, the stage was set for their unforgettable adventure amidst nature's splendour.
Kinjal and Sushil, the dynamic duo behind Wandering Minds, are known for their wanderlust-filled escapades, where they boast an impressive following. Kinjal, the ever-enthusiastic traveller and foodie, and Sushil, the talented cinematographer and editor, set the perfect tone for a destination that blends the thrill of exploration with the joy of togetherness in the mountains. Their journey at Skyview by Empyrean was nothing short of magical, as they immersed themselves in the beauty of the mountains, capturing breathtaking vistas to share with their audience.
Joining them was the spirited Surbhi from Urban Utopia, a travel and lifestyle blogger whose wanderlust knows no bounds. Hosted by Amazon Fashion India and crowned a Galaxy Creator by Samsung India, Surbhi has reviewed over 80+ luxe hotels, exemplifying her penchant for the finer aspects of travel. With her mantra of EatWell, StayWell, TraWell, Surbhi embarked on an enriching journey at Skyview by Empyrean, documenting every moment of her experiences with her signature charm and style.
Nishtha Gandhi, the enterprising entrepreneur, and influencer, also visited us, as did the creative mind behind Undrdressed.in, Nishtha, embodies a remarkable fusion of elegance and exploration, documenting her lifestyle, personal style, and travels with a touch of panache. Hailing from Delhi, she brings a unique perspective to the world of travel and fashion, captivating her audience with each captivating frame and thought-provoking narrative.
During her visit to Skyview by Empyrean, Nishtha immersed herself in the tranquil beauty of Patnitop, capturing every moment with an artistic eye. Her journey showcased the seamless harmony between her distinct style and the sheer grandeur of the destination. From exquisite rooms adorned with luxurious amenities to the breathtaking landscape that surrounded her, Nishtha's charismatic presence illuminated every corner of Skyview by Empyrean.
From exhilarating gondola rides that offered sweeping views of the mountains to indulging in the finest amenities that Skyview by Empyrean has to offer, these influencers revealed the luxury and adventure that awaited them. As they explored the tranquil beauty of Patnitop, their narratives came alive, painting a vivid picture of the magic that enveloped them during their stay.
The visit of these esteemed guests was a celebration of wanderlust and the spirit of adventure that knows no bounds. As they bid adieu to the mountains, their hearts filled with memories and experiences that will be cherished forever.
Skyview by Empyrean extends heartfelt gratitude to Kinjal & Sushil – Wandering Minds, Nishtha Gandhi, and Surbhi from Urban Utopia for their presence and exceptional storytelling, as their narratives inspire countless others to embark on their own journeys.
Skyview by Empyrean remains committed to curating extraordinary experiences that leave a lasting imprint on the hearts of travellers worldwide.
Show More
Get to know Mr. Anil Kumar Dahiya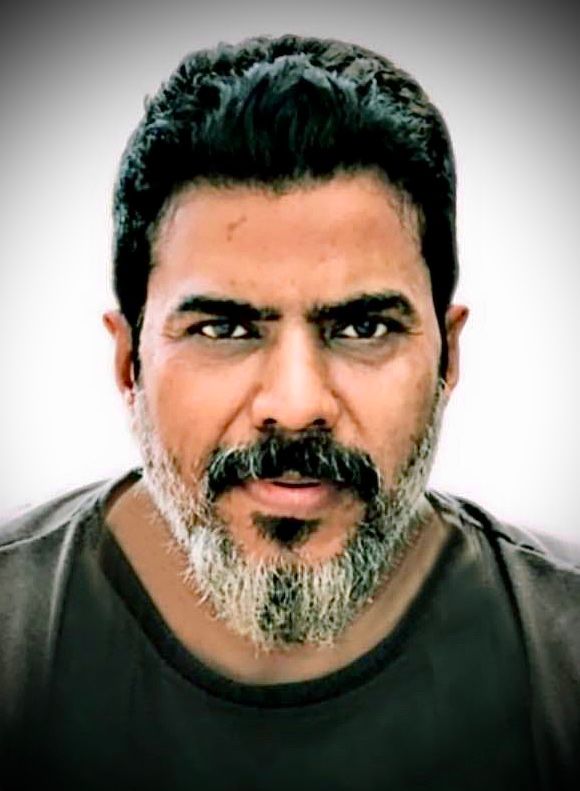 Executive Chef
Can you tell us about your previous experience?
I hold a Diploma in Culinary Art from Pusa Delhi and have a strong background in Modern Indian and Western cuisine. With hands-on experience in all aspects of kitchen operations, I am a hospitality professional with 30 years of experience working for renowned hotels such as the Oberoi, IHG, Radisson, and Lemon Tree. Throughout my career, I have successfully managed more than 30 pre-openings of various quick-service restaurants and F&B outlets across India.
How would you describe a typical day at Skyview by Empyrean?
Each day at Skyview by Empyrean presents a fresh opportunity for me to impart new skills and knowledge to my team. In addition to supervising the team and laying out the menu for the day, my team thoroughly enjoys the cooking sessions with me.
What makes Skyview by Empyrean special?
Skyview by Empyrean is a truly magnificent place that offers its visitors the chance to indulge in the breathtaking beauty of the landscape. The main attraction for guests, as well as for me, is the cable car, which sets this place apart from others.
How do you spend your free time?
Aside from my culinary pursuits, I am passionate about dogs and have been since childhood. In my free time, I love to spend time with my pet dog and stray dogs, caring for them and feeding them.
Any message for our readers?
In the culinary world, professionals often recommend keeping things simple. The simpler our approach to life and cooking, the more we can truly savor and enjoy every moment. Complicated recipes can be expensive and may not always guarantee the desired taste in the food.
Show More